Home - Feathers Vs Vanes - Fletching Guide - Products - Examples - Buying - Distributors - Flu-Flu Instructions - Newsletter - FAQ
TRUEFLIGHT FEATHERS
EXAMPLES

Note: This page may load slowly because of color graphics.
---

Wow! Beautiful arrows by David Lawson at Wilderness Custom Arrows ( www.WildernessCustomArrows.com )
---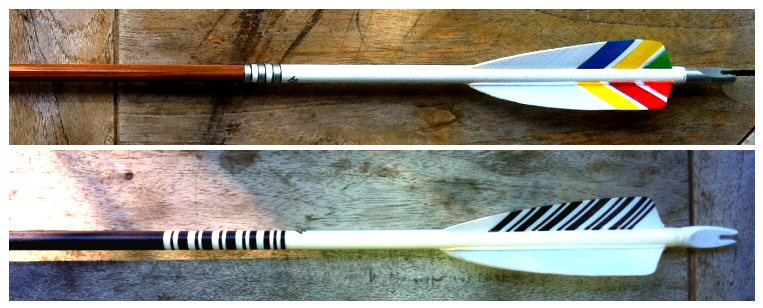 Very detailed feather splicing by Andy Firth of Sidney, Australia.
The bottom example contains Andy's initials in Bar Code!
---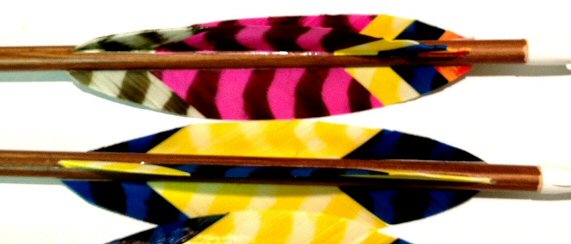 Feather Splicing Gone Wild! by: Seth at smcook98@gmail.com
---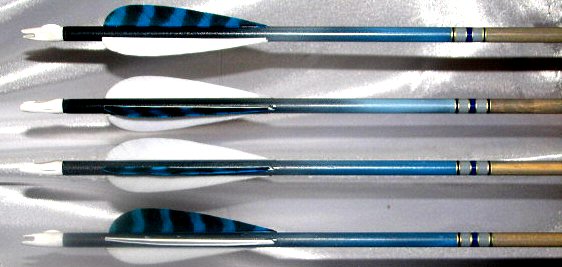 Very nice looking arrows by:
Aquitaine Arrows, http://aquitainearrows.com/
---


Beautiful arrow with beautiful splicing by:
Darrin Chance, 651-815-7033, www.nativearchery.com
---


Trueflight Traditional Bronze Barred plus excellent cresting from:

Julein Besio-Laurens ( www.vikingarrows.com )
---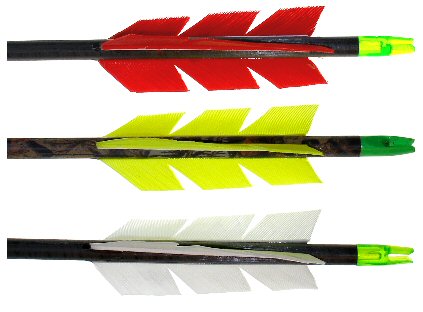 Gator Fletchings! gatorvanes@yahoo.com (951-660-6799)

---

Amazing feather fletching by Butch White, 7536 Jackson Avenue, Hammond, Indiana 46324 (219-852-1084) saudas777@yahoo.com

---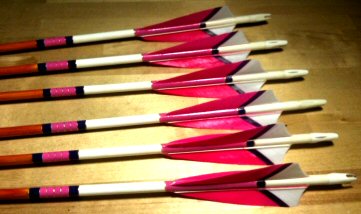 Excellent "Trophy Quality" arrows by Oystein Larsen Arrowmaker from Norway.
---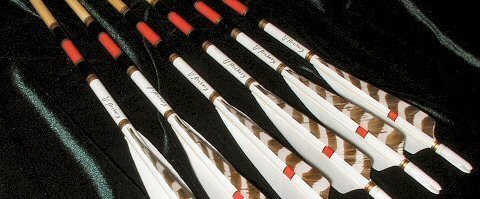 Trueflight Barred(TM) put to excellent use by Arnold Smit (http://www.v-archery.nl) from the Netherlands.
---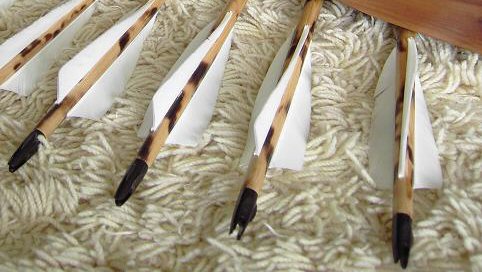 Beautiful Custom Arrows by Robert Musters (http://members.home.nl/bluefalcon/) from the Netherlands.
---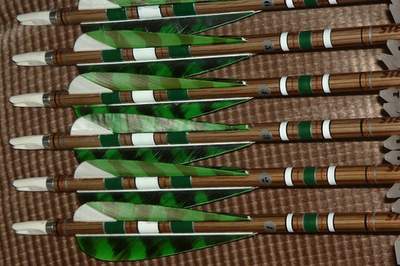 Trueflight Barred plus expert splicing by Jerry Wright at Gravel Ridge Archery (989)352-1000 1-877-9ARROWS
---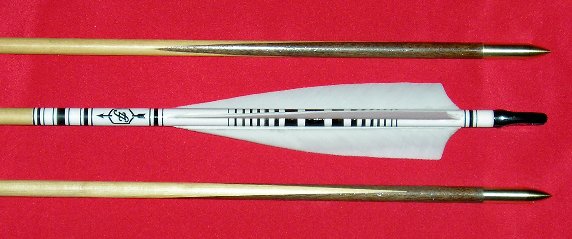 Excellent cresting plus footed shafts by Little John Arrows (www.little-john-arrows.com) email: john@jcatley.wanadoo.co.uk Tel: 01909 733298
---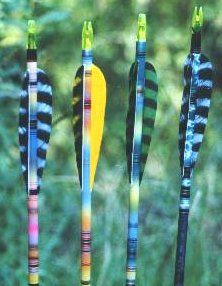 Beautiful custom cresting from Arrow Works (P.O. Box 2523, Evans, GA 30809-2523, Email: arwwrks@mindspring.com or call: 706-541-0073)

---


A custom crested arrow by Loss Creek Arrows (3301 Biddle Road, Crestline, OH 44827 (419)683-1548 Email: losscreekarrows@yahoo.com )

---


A custom spliced traditional arrow by WoodenArrows.com (Email: sales@WoodenArrows.com )

---


These are Cajun Archery's finest Economy Wood Arrows made with 2 1/4" feathers and spine up to 30 lbs. Visit Cajun Archery at http://www.cajun1.net/cajunarc/ for more information on Cajun Archery arrows.

---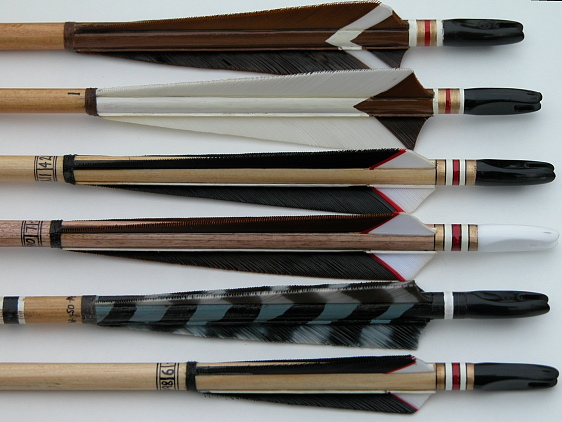 Steve Marson, United Kingdom, email: oz46@dial.pipex.com

---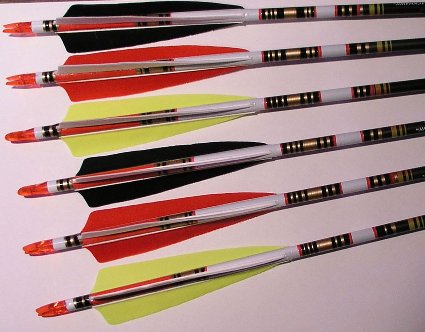 Custom Arrow Design / Al Ostapowicz, email: aaostapowicz@nls.net
2775 State Route 303, Mantua, Ohio 44255, 330-626-9513

---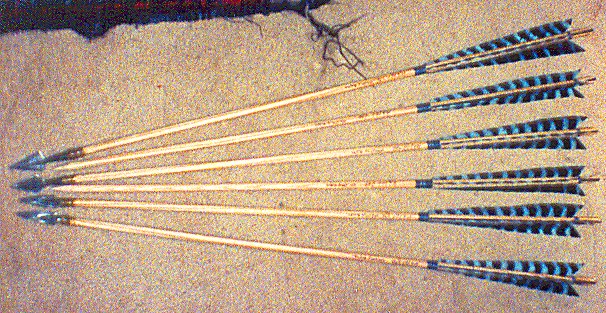 G. Bradford -- English Traditional Arrows
11 Marlborough Close, Weston, Hitchin.Herts, SG4 7DN, England

---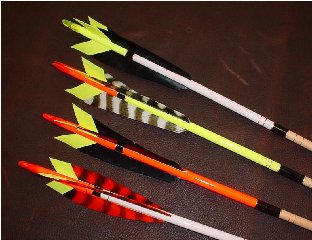 Ted Fry of Raptor Archery Inc. splices a bright color (like our Fluoro-Chartreuse) at the rear of the fletching making for a highly efficient "Tracer".

---


Outstanding feather splicing from Arrow Art (P.O. Box 2122, Howell, MI 48844 (517-546-0087)).

---

4 Inch Round Back are ideal for high performance carbon shafts.

---


This is a simpler example of "feather splicing". The feathers are 5 inch Shield Back. Using a bright color for the rear part of the feather, increases the visibility of the arrow when it is shot. The shaft is X7 aluminum.

---


5 Inch Trueflight Round Back on aluminum shaft. Color combinations are almost limitless with Trueflight's 14 solid colors and 8 Trueflight Barred pattern colors. This shaft is XX75 aluminum.

---


Classic 5 inch Shield Back on a hand crested arrow by Kustom King (5435 75th Ave., Schererville, IN 46375 (219-322-0790)).

---


4 Inch Trueflight Round Back Purple Barred on a fast X7 aluminum shaft.

---


This is a classic traditional arrow by Three Rivers Archery Supply (Box 517/400 H.L. Thompson Jr. Drive, Ashley, IN. 46705 (219)587-9501/Fax(219)587-3078). These feathers are 5 1/2 inch red Trueflight Barred Shield Back.

---

This is a "Flu-Flu" arrow made by fletching 6 sections of full length feathers, each about 6 inches long. (Flu-Flu arrows are used for shooting at flying targets. They will fly straight and fast for about 20 yards, then rapidly slow down and drop to the ground.)

---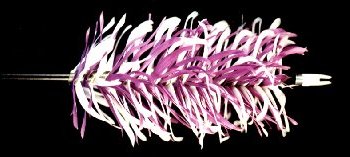 Click here for complete instructions to make this kind of flu-flu.
Another way of making a "Flu-Flu" arrow is by wrapping full length feathers around the arrow shaft. This arrow uses 4 full length feathers of 2 colors. Only 2 full length feathers are needed in most cases. We use "contact cement" on the fletching area of the shaft and base of the feather. When the contact cement has dried, we just wrap the feather in a spiral on the shaft.

---
Notice: If you are a manufacturer of arrows and would like your work shown here, please send us a photo and description. We will try to post as many examples as practical.
---
Home - Feathers Vs Vanes - Fletching Guide - Products - Examples - Buying - Distributors - Flu-Flu Instructions - Newsletter - FAQ