Home - Feathers Vs Vanes - Fletching Guide - Products - Examples - Buying - Distributors - Newsletter - FAQ
TRUEFLIGHT FEATHERS
NEWSLETTER 2011
(Click here for 2010 Newsletter)....... (Click here for 2009 Newsletter)....... (Click here for 2008 Newsletter)
(Click here for 2007 Newsletter)....... (Click here for 2006 Newsletter)....... (Click here for 2005 Newsletter)
(Click here for 2004 Newsletter)....... (Click here for 2003 Newsletter)....... (Click here for 2002 Newsletter)
(Click here for 2001 Newsletter)....... (Click here for 2000 Newsletter)....... (Click here for 1999 Newsletter)

--NEW 2 INCH SHIELD BACK
--TRUEFLIGHT BARRED AND BRIGHT STRIPES IN ALL SIZES!
--BRIGHT STRIPES PRICES LOWERED
--MORE AFFORDABLE BARRED AND BRIGHT STRIPES!
--NEW SPIRAL WRAP FLU-FLU FULL LENGTH
--LAUNCHING AERIAL TARGETS
--THOUGHTS FROM BOB...
--THE WILDEST FLETCHING YOU'VE EVER SEEN!
--ROY MARLOW'S FASCINATING "ARCHERY BALLISTICS..."


---



Big News About Small Sizes!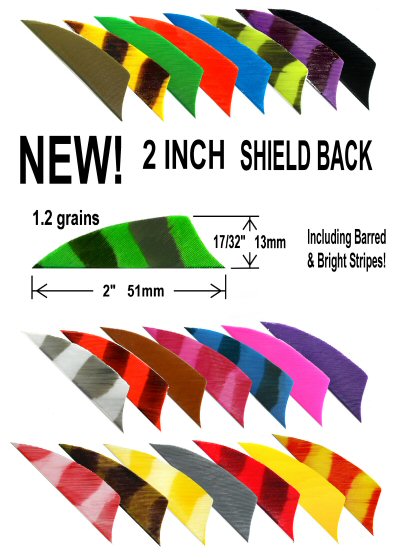 We've expanded our feather choices in smaller sizes by adding a new 2 inch shield back shape.

The new Trueflight 2 inch shield adds another option for those archers needing less guidance on light weight arrows, while retaining "feather forgiveness", high speed stability, and minimum weight and drag. The 2 inch shield cuts weigh only about 1.2 grains each.

Archers who like the "look" of the 2 inch but need a bit more guidance, always have the option of using 4 or more fletchings per arrow. The weight of each feather is so low that we've found that 4, 5 and even 6 fletched arrows fly and perform very well... and look really great. Plus, our very competitive pricing on the 2 inch shield, makes the added fletching practical and cost effective.

Trueflight's 2 inch shield is, of course, available in both right and left wing, and all 14 of Trueflight's standard solid colors, ranging from high visibility fluorescents to stealthy greens, browns and black.

But there's more news: We're making the new 2 inch shield also available in all 18 Trueflight Barred and Trueflight Bright Stripes patterns! Now those light weight arrows can look just as "dressed up" and high class as their heavier brothers. The number of "camo" or "colorful" or "traditional" or just plain "eye catching" combinations is practically unlimited.

Let us know if you'd like some free samples of the new 2 inch shield. The proof is in the shooting. We know you'll be impressed.
---
Even More News: Trueflight Barred and Bight Stripes in ALL Sizes.



We've seen the light! Those 2 inch shield back feathers looked so good in barred and Bright Stripes patterns, that we're now making Trueflight Barred and Bright Stripes versions of all of our other smaller sizes as well. Three inch, 2.5 inch, and 2.25 inch in our famous patterns will all be standard items. We expect to see some really super looking arrows and some wild combinations showing up in lighter arrows.
---
Bright Stripes Prices Lowered to Trueflight Barred Prices




Improved production processes and greater efficiency have made it possible for us to make "Bright Stripes" for the same cost as "Trueflight Barred". This has allowed us to sell both types for the same price. This should make for easier pricing and accounting for all of our customers.

Bright Stripes really attract attention on any arrow. Remember, a single Bright Stripes or Trueflight Barred pattern can be fletched as the "cock" feather along with 2 other solid color feathers. This results in a very attractive arrow, with only a small added cost.
---
New Barred and Bright Stripes Stock Box and Package Quantities
In order to make Trueflight Barred and Bright Stripes patterns easier and less costly to stock, we've changed the "stock box" quantity to only 500 pieces. Of course, the price for the 500 stock box is ½ the price for the 1000 stock box. This means it is possible for dealers and distributors to carry a wider selection of these popular patterns with a lower inventory cost.

We've also changed the standard Trueflight Barred and Bright Stripes packages to 50 pieces per package. The new 50 count package price is also ½ the price of the old 100 packs. This should encourage even more creative and attractive fletching combinations from arrow builders large and small.

(The original 1000 count stock boxes and 100 count packages are still available at the original pricing for those of you who prefer these stock quantities. It's your choice, just let us know when you order.)
---
"Spiral Wrap" Flu-Flu's Made Easy!

We've been seeing much more interest in "Flu-Flu" arrows by archers shooting both aerial targets and also for casual "stump shooting" fun. "Spiral Wrapping" one or two full length feathers around the fletching area of a shaft has always made for a very effective and very "eye catching" Flu-Flu arrow. In the past, though, the "quill" of the full length feather did not always want to easily wrap around the shaft... especially smaller diameter shafts.

But our innovative people have solved that problem We are now able to produce specially prepared full length feather which has a quill which VERY EASILY wraps around even the smaller arrow shafts. With these specially prepared full length, making great looking spiral wrap Flu-Flu arrows is quick, easy and low cost. Full instructions are posted in our web site at: www.trueflightfeathers.com/flu-flu.htm. We can also supply printed instructions upon request.

The best news is, we are selling the specially prepared full length for spiral flu-flu's at only ½ the price of regular full length. This means that really great preforming (and fine looking) flu-flu arrows can be made at a remarkably low cost.

And yes, we've found, amazingly enough, that our specially prepared spiral wrap full length really CAN be shot repeatedly from compound bows. The spiral wrap segments somehow find their way past the cables, arrow rest, bow riser, etc without damage.

To get in on the fun, check out the web site to see how it's done, then let us know if you'd like some free samples to practice with. We'll be happy to send free samples... once you've started shooting at flying targets, we know you'll be hooked.
---
Flying Targets – Also Made Easy!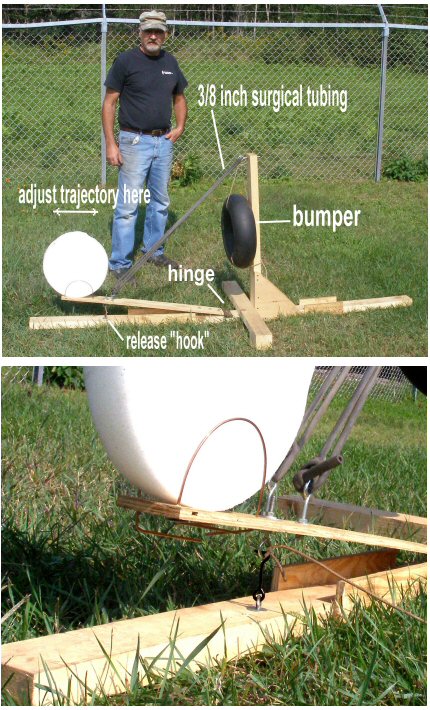 Getting started shooting at flying targets is not hard. (Although hitting a flying target may take some practice...) Flu-Flu arrows typically fly less than 50-100 yards, so you'll need a small clear area that is safe for shooting. The target itself can be a foam plastic disc, or even a plastic milk jug containing a small amount of water or sand to help it keep up it's momentum.
Foam disks can be made from cheep polystyrene insulation board 1 to 2 inches thick and anywhere from 8 to 24 inches in diameter. (Personally I like the larger diameter disks... for obvious reasons.) If you will be doing a lot of "aerial" shooting disks made from foam polyethylene (ie. Ethafoam) will last for a long time.
Getting the "target" up into the air is also no problem. We started by having a second person, the "launch master", just toss the disc or jug into the air, while standing in a safe position to the side of the shooter.
Our next step up in "target launchers" was quickly put together from scrap 2 x 4's, a door hinge, 5 eye bolts, a screen door "hook", several feet of 3/8 inch surgical tubing, some welding rod, glue, a light rope, screws and an old inner tube. The launcher is shown in the nearby photos. Granted, it doesn't look very fancy, but it works well, is simple to make, and all of the parts can be found at your local hardware store.
A few notes: Changing the starting position of the disc on the arm will change the path of the disc in flight. We found that moving the disk further outward causes a more vertical flight, while starting the disc closer to the hinge gives a flight with more horizontal distance. We left space on the 2 x 4 cross arms of the base for sandbags or other weights. So far they haven't been needed. The inner tube "bumper" could be replaced by foam padding.
We're sure people will come up with more sophisticated and professional "launchers", but this one is a good starting point. For a really professional launching system, check out the Laporte automatic disc launcher. Contact: Laurent Ivaldi, LAS Distribution, Z.I. Des 3 Moulins, Route Des Cystes, 06600 Antibes, France, 0033615600864 (phone), 33 (0)4 93 74 13 76 (fax), Email: archerytrap@orange.fr
Web site: www.outdoortv.fr www.lasdistribution.com
---
Thoughts from Bob Link, Trueflight V.P., General Manager
Dear Friends,

I hope that your year is going well in all ways. It's been an "interesting" year for many folks, including us.

Blessings come in many ways to us each day and sometimes we fail to see them. However, I've always thought of your orders as blessings for which we are very thankful. Despite the fact that you don't see much publicity for our feathers in most modern archery magazines, we are still working hard to produce for you, the best quality archery feathers (and the best "high tech" archery fletching ) in the world. We are very fortunate to have highly quality conscious employees who do an outstanding job each day.

* * *

Nowadays, it seems like the arrow speed thing has gone to a higher level. That's where we can help as our feathers not only will give you the speed you desire, but also that ever important controlled guidance to your targets.

A dealer recently called with some technical questions. As we chatted, we got on the subject of arrow speed. He pointed something out to me that was a bit humorous but very true. He said the main difference he's seen between arrows traveling over 300+ feet per second and arrows traveling 220 feet per second is how deep they go in the ground after a pass through.

Speed is good, but accuracy and straight arrow flight are far more important. All the speed in the world doesn't do a bit of good if the arrow misses the target Many more experienced bowhunters prefer larger fletching for the ultimate arrow control. These wise bowhunters know that at the moment of truth when they're drawing down on an animal and so many things can sometimes go wrong, it's nice to have that peace of mind knowing that they don't have to worry about their arrows when they are flying with Trueflight!

* * *

This past summer, we modified a clay bird launcher to launch 15 diameter foam discs for aerial archery shooting. It worked better than I ever thought.

We had a great opportunity to try out our launcher at our annual church's Family Fun Days. It was my intention to provide some fun entertainment for the kids of our parish. One of our local schools involved in the NASP helped with the bows and arrows. Of course, I had to refletch about 3 dozen Genesis shafts with our new Spiral wraps. They sure were bright and colorful, very eye catching Disc shooting at foam targets, aerial shooting at balloons filled with helium gas tied with 4# test fishing line and eight 3-D targets provided a full day of fun for all who participated.

As you can imagine, there were concerns by some of the Church's elders until they saw how a flu flu arrow works. The day turned out to be a success with a "ton" of arrows being shot at different targets. However, the hit of the day was the aerial disc shoot. In fact, many adults could not resist trying their luck at hitting one of these aerial discs. The more they missed, the more they were determined to hit it. If these things could get people at a church festival excited, just think of what you could do with your customers at an archery event.

Last year at the ATA show, some of the top folks from the NASP stopped by our booth with great interest about our Spiral wraps. I only wish they could have seen the fun that everyone had at our church.

By the way, if you're interested in finding out more about the launcher, I would be delighted to share with you, how I modified my clay bird launcher to shoot a 2 thick, 15 diameter Styrofoam targets.

* * *

Well, it should be interesting to see the results of this November election. Will those newly elected officials live up to their promises? Just about everyone is a little suspicious of all the claims and plans. After all the negative campaign ads, who do you believe? I hope the results will lead us to a better economy, which means getting people back to work.

Please stop by to see us at the ATA Archery Trade Show. We'll be in booth #1642. We'll have a few new items that just might be of interest to you.

As always, Thank You for your continued support of Trueflight Feathers. It sure means a lot to all of us.

May God bless all of your fine efforts.

Bob
---
Butch White's Amazing Feather Fletching!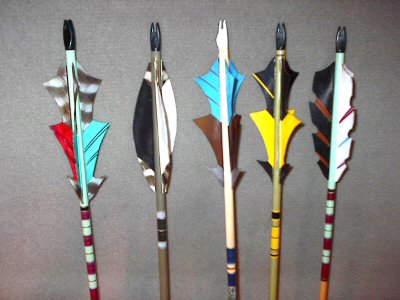 One of the great things about feather fletching (aside from it's performance ) is that there are so many possible variations possible to make unique and interesting shapes, colors, and combinations on an arrow. Butch White has taken "unique" to the extreme... by custom making some of the wildest looking arrows we've ever seen.
Butch uses fancy splicing, custom cutting and maybe some other clever ideas in fletching his arrows, some of which he sells on eBay. I know I'll never make arrows as fancy, but seeing them sure gets the mind going for some really sharp looking additions to my arrows.
I believe Butch will make custom arrows upon request. You can contact him at: Butch White, 7536 Jackson Ave., Hammond, Indiana 46324 (219-852-1084) saudas777@yahoo.com
---
Roy Marlow's "Archery Ballistics..."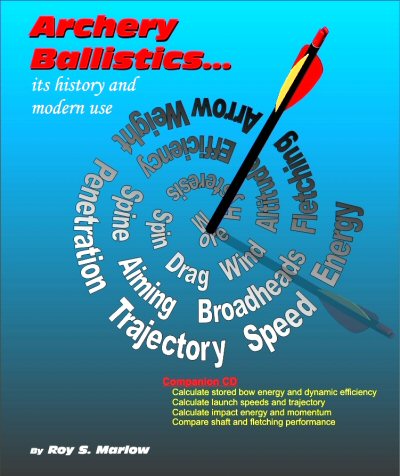 Is there a bowhunter or archer anywhere who doesn't want to optimize their equipment's performance and learn more about it's limitations, accuracy and effectiveness?
Roy Marlow has been collecting bow and arrow test reports and calculations for almost his entire life. In "Archery Ballistics" he has put it all together in what has to be the most complete and thorough collection of technical and practical archery equipment performance information ever assembled.
"Archery Ballistics" is packed with very useful information, assembled by sources ranging from Saxon Pope himself to C. N. Hickman in the 1930's to Fred Bear to Norb Mullaney, to Dave Holt, to the U. S. Army, to the TV "Mythbusters" along with many more. The topics include bow efficiency, arrow speed, arrow trajectory, broadhead penetration, range estimation, fletching type, crosswinds, up hill and downhill shooting... to name only a few. Roy covers not only the theory behind each of these, but goes on to discuss actual test results done with real equipment in real situations.
Also available is a companion CD for the "computer inclined" archer. The spread sheet programs on the CD allow for endless exploring of equipment options, and shooting scenarios.
All in all, this is a truly fascinating book, bound to be -studied and re-studied by serious archers for years to come.
Visit www.Strikepoint-Press.com or email SpTech@gvtc.com for more information. ($24.95 for the book, $29.95 for the book plus companion CD.)
Text and Photos copyright 2010, Trueflight Mfg. Co., Inc.

Home - Feathers Vs Vanes - Fletching Guide - Products - Examples - Buying - Distributors - Newsletter - FAQ