Home - Feathers Vs Vanes - Fletching Guide - Products - Examples - Buying - Distributors - Newsletter - FAQ
TRUEFLIGHT FEATHERS
NEWSLETTER 2012
(Click here for 2011 Newsletter)
(Click here for 2010 Newsletter)....... (Click here for 2009 Newsletter)....... (Click here for 2008 Newsletter)
(Click here for 2007 Newsletter)....... (Click here for 2006 Newsletter)....... (Click here for 2005 Newsletter)
(Click here for 2004 Newsletter)....... (Click here for 2003 Newsletter)....... (Click here for 2002 Newsletter)
(Click here for 2001 Newsletter)....... (Click here for 2000 Newsletter)....... (Click here for 1999 Newsletter)


A Good Year!

It's been an exciting year for Trueflight Feathers. Our new 2 Inch Shield Back has been very well received. We've gotten many enthusiastic reports about it's outstanding guidance and preformance at speeds well over 300 fps. At only 1.2 grains each, the 2 inch save weight, move the FOC forward and provide outstanding guidance for any high performance arrow.

Our Spiral Wrap TM flu-flu full length sales have continued to increase as word gets around about how much low cost fun anyone can have with flying targets. (Later in this newsletter we show how to simply modify a standard clay pigeon launcher for foam disks).

Our new standard 500 and 50 packs of Trueflight Barred TM and "Bright Stripes TM" have made it possible for dealers and distributors to stock a wider selection of these very attractive fletchings at a lower overall cost. Each year, it seems that we see a greater percentage of Barred and Bright Stripes showing up on the highest quality arrows.
---
...And for 2012 – More Excitement!

We just can't stop the creative and archery loving folks here from coming up with new ideas, new products, and new ways to enjoy archery. For 2012, we've come up with some very interesting variations on our popular barred and bright stripes patterns.

First up is what we call our "Trueflight Mini-Barred TM Pattern". The new pattern is very much like our original standard barred pattern, but the bars and spaces are smaller. It's a finer pattern which we developed particularly as a more appropriate match for shorter diecuts. But when we started looking at samples, the "Mini-Barred" looked very nice on longer cuts, too.

Next, we came up with a wild, random camo pattern which (surprise ) we're calling "Trueflight Camo TM". This pattern has a really irregular array of lines, patches and blotches – very much different than our Barred Patterns. It's very much in keeping with the latest military camo ideas and blends in with a many different backgrounds.

Like our original "Trueflight Barred", the new "Mini-Barred" and "Camo" patterns have a good print on BOTH sides of the feather. Also like our original "Trueflight Barred", the web of the feather is not "glued together", or damaged by an ink – the feather's original "Velcro" action is unchanged as is the very light weight of the feather.

Right now the "Mini-Barred" and "Camo" patterns are special order items. We may not have them in stock, and might have long waits between production runs. However, some distributors are stocking these in some colors, and selling them in small quantities. We'll be happy to refer you to these distributors if you give us a phone call, or send us an email.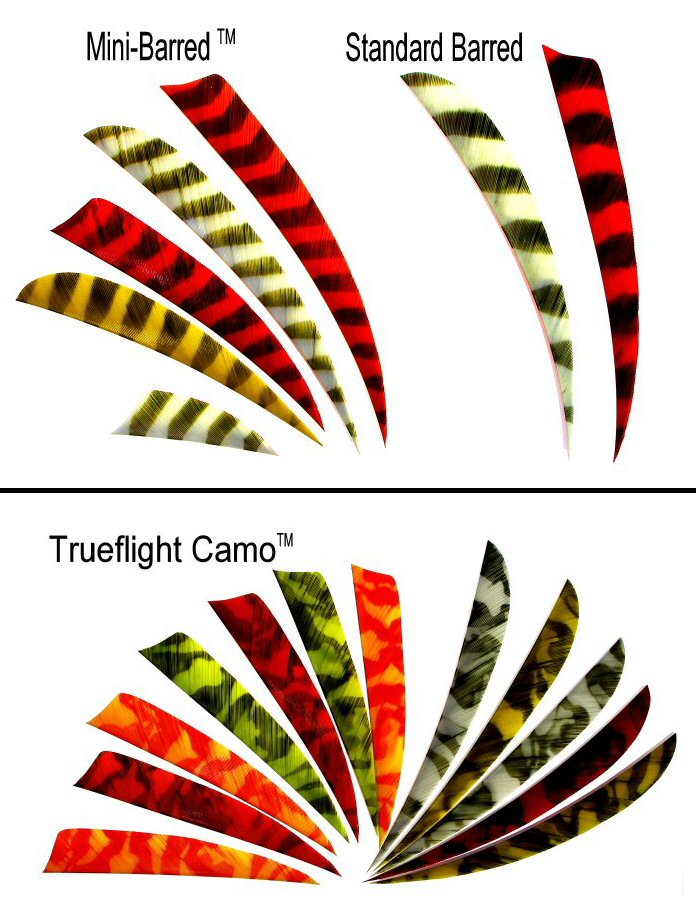 ---
Disc Launcher From Easy Mod of Standard Clay Pigeon Launcher

Bob Link and the inventive guys in our shop have been using slightly modified standard clay pigeon launchers to send archery aerial targets flying. One model we started with is a Lyman Trius Trap #10205. These sell new for about $75.00. We've also converted clay pigeon launchers from other manufacturers found at yard sales, etc. and bought for only a few dollars.

The "modifications" are very simple. First, we add a larger "clamp" to firmly hold the foam disc on the launcher "arm". We typically use scrap sheet metal, bolted or screwed to the original launch arm, but with a wide enough "gap" to match the thickness of the foam disc. The friction, or clamping force of the "clamp" as well as the starting position of the disc can be adjusted to change the flight path of the disc.

Next, we usually tilt the "launcher" upwards so that the path of the disc is mostly in a vertical plane, instead of a horizontal plane.

We like to use about a 20 foot long "trigger" rope to activate the arm release from a safe distance. For foam discs, we typically use "Ethafoam" (polyethylene foam plastic) 1 to 2 inches thick, cut into a 12 to 18 inch diameter circle. (The foam is available from "McMaster-Carr" and is similar to that used in many archery targets).

The aerial targets are a great deal of fun. This kind of launcher does have to be manually "re-loaded" after each launch, but a dozen or more shooters can shoot simultaneously at the same flying disc. The Laport Company, of course sells an automatic multi disk launcher, but the modified trap or skeet launcher idea is a fine way to get started for a much lower cost.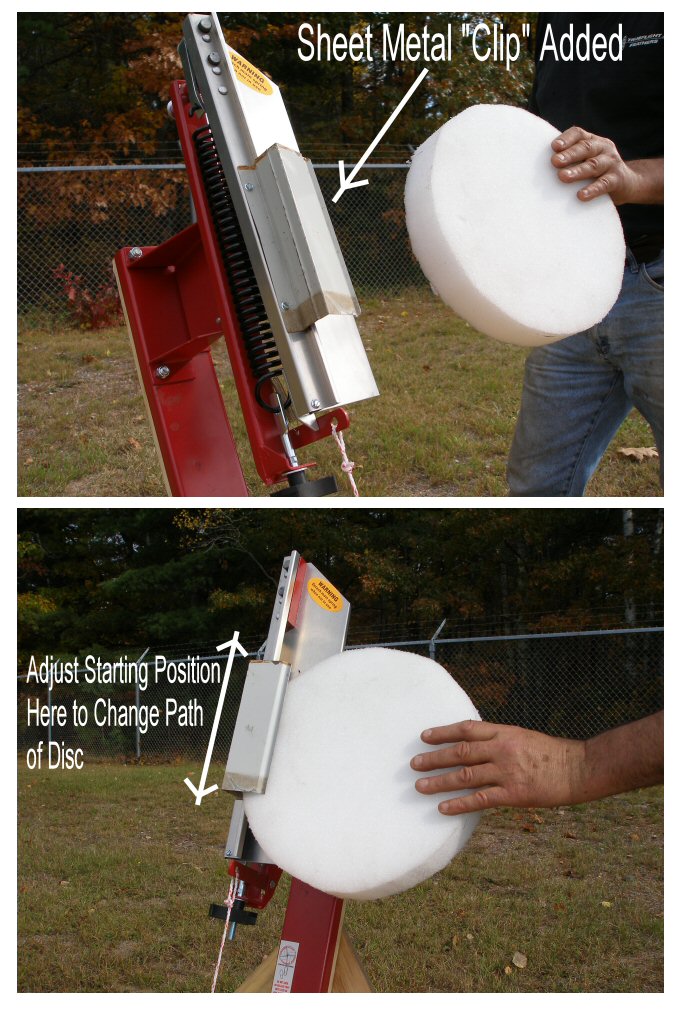 ---
Bob Link – (Part Time) Movie Consultant

This year we've had at least 3 calls from movie producers looking for advice and suggestions for interesting looking arrow fletching. This isn't too unusual and Bob Link has gotten used to coming up with "good side" and "evil" feather designs. But this is the first time that Bob has gotten a personal follow up thank you call from a studio executive, telling him that his arrow design was much better than anything their art department had proposed.

It appears that at least three different movies featuring a lot of archery are right now "in the works" and set for release in the next year or so. We know that one of them is based on the wildly popular "Hunger Games" book. The "Hunger Games" book is a very popular young adult science fiction title. The movie version features a young girl depending on her archery skills for survival, vengence, and general saving of civilization. We aren't sure of the titles on the other movies – apparently they are right now "super top secret"... so secret in fact, that even the producers haven't decided on a title for one of them.

For some reason, movie folks, especially art directors, have a great fondness for including archery in their work. No doubt they are tapping into some deep connections between the human psyche and bows and arrows.... and technology... and human history... or something fancy like that. It sure is true that it is hard to find any culture around the world where archery hasn't been an important part of their history.
---

Brad Love tests Trueflight's 2 Inch Shield Back in Iowa!
---
Looooong Shot Aiming for Seattle With a Long Bow – From the Middle of the Pacific Ocean!

Dave Forcucci, a marine scientist aboard the famous US research icebreaker, the "Healy" has "launched" a very interesting oceanographic project – with his longbow. During a long cruise from the Hawaii to the Arctic, Dave spent his time building wood arrows, burned with the "www.driftarrow.com" address, then shooting them over the side at known locations and specific times. Computer models of ocean currents are being used to predict "landfall" for the arrows. If any arrows are recovered, their actual location will be used to cross check the predictions of the computer models.

This is certainly one of the most unusual applications of "archery technology" we've heard of. But the cost is low, and the shooting looks like fun And... there is a practical reason to shoot the arrows into the sea with a bow... since the separation from the ship insures the arrows won't get chopped up in the ship's propellers.

The arrows may show up anywhere from the Aleutian Islands, down the whole US West Coast in the next several months. If you find one, be sure to let Dave know where and when. You can report a found arrow easily by going to "www.driftarrow.com" and clicking the "Report a Drift Arrow" button.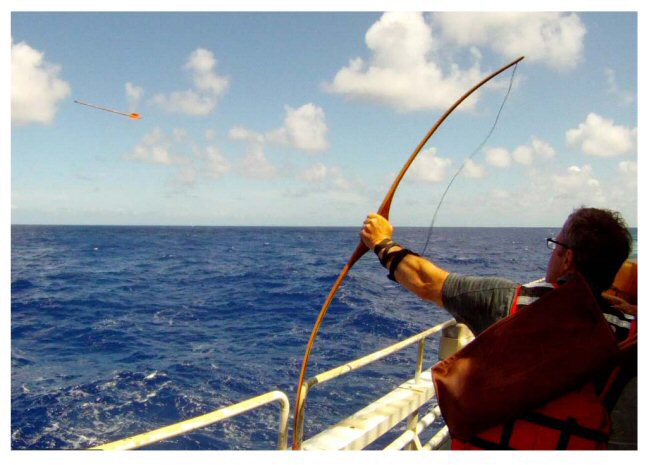 ---
"Contagion", Bird Flu, and Trueflight Feathers? NO WAY!

It should never be possible for Trueflight Feathers to carry or transmit the bird flu virus.

Medical research has determined that exposing the virus to elevated temperatures for certain lengths of time deactivates (or renders harmless) the virus. (See www.ecolab.com/avian_influenza/ for example). Trueflight's normal processing temperatures and durations have ALWAYS been much greater than the minimums known to destroy the virus. In addition, our processing chemicals and water temperatures alone are believed sufficient to destroy any virus.

Further – all of our feathers are domestic turkey feathers grown in the US on turkey farms. We do not use feathers from any wild birds. Dangerous bird flu strains have not been detected at all in the US. All US turkey farms as well as all US turkey processing plants (where we obtain the feathers) are subject to regular and very exhaustive USDA (US Department of Agriculture) inspections. The USDA is a federal agency which takes the bird flu very seriously and is very much on the look out for any sign of it.

Our own processing plants are also subject to regular USDA inspections and if requested by overseas customs officials, our USDA will provide an official "USDA Plant and Animal Inspection Certificate" each of our feather shipments. There is an approximate $50.00 charge for this certificate.

Because of the processed nature of our feather fletching, and the lack of any sign of dangerous bird flu in the US, we do not expect shipping problems to other counties. Should import problems arise with any particular shipment, we will work with our customers to rapidly meet any documentation requirements. If any shipment cannot be imported, it can be return shipped to us for a full refund.

We will continue to monitor the bird flu situation closely and of course will not ship to any country which announces restrictions on US imports which might apply to our archery fletching.
---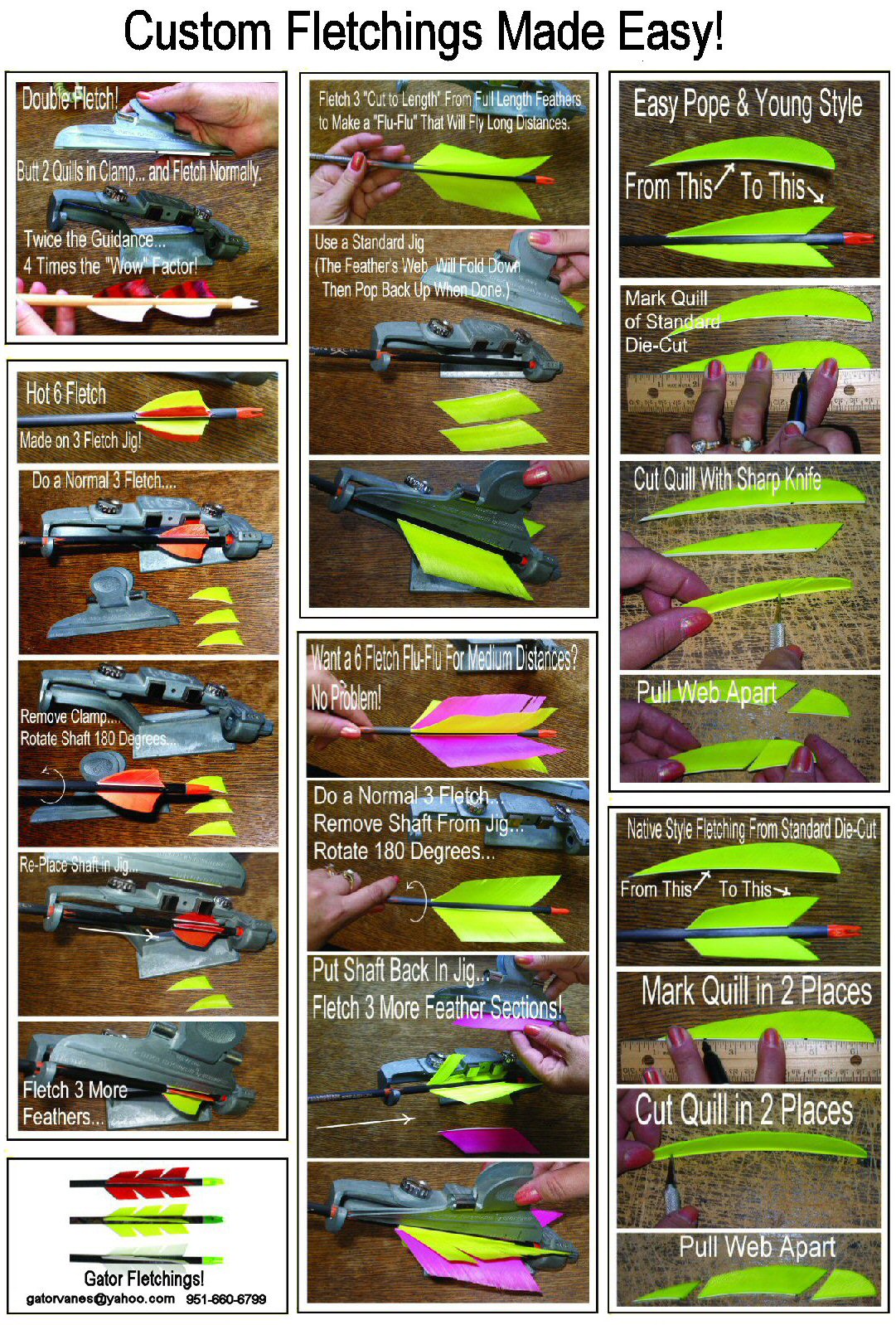 Text and Photos copyright 2011, Trueflight Mfg. Co., Inc.

Home - Feathers Vs Vanes - Fletching Guide - Products - Examples - Buying - Distributors - Newsletter - FAQ